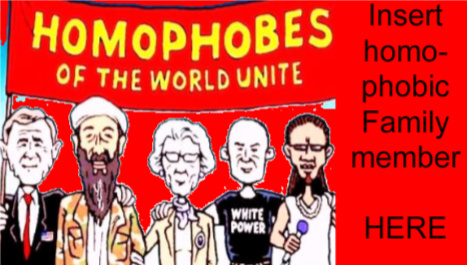 I am an African immigrant gay black man, and I have seen a lot. I was almost killed in the "hood" for being effeminate...way before I knew I was gay. When I went to school in New York I was able to express my sense of freedom through clothing. In Malcom X's journey he was Detroit Red in a Zoot Suite effin white woman and doing coke before becoming a Prophet and returning to a sex negative normative leadership (after racial ambiguity and family dispersal). Malcolm was eulogized as our shining black prince. That says it all. As a black community we have not been able to fear our fathers, love and want our mothers, desire and love our men, freely revolutionize our family relations without illegitimacy, freely love, expressively sex, artistically depict without a white gaze, materially manifest without a religious ceiling, spiritually explore within a liberal space of divinity, dance danger and tarry the temporal, be tender and not surrender, combine sensuality and the struggle, sing and hone silence, dress for subsistence - success - suffering -sobriety - sustenance...ALL AT THE SAME TIME. We are but have never Been.
ps : The problem this guy faced is similar to what I'm facing as a Indian guy who
listens to indie rock/feminin than masculin and look different from other. The
only thing different is I'm not homosexual but if I'm a Homo then I will be
proud of that, no place for homophobia in my eyes.
http://www.thedailybeast.com/blogs-and-stories/2009-05-06/does-kanye-dress-too-gay/3/